Breakfast with The Beatles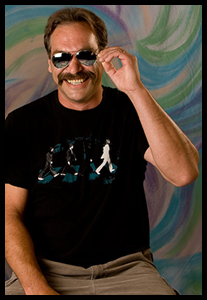 Hi all. Mark The Beatle Freak here. I want to encourage you to join me Sunday morning's at 8 a.m. for two hours of nothing but the fab four. Our goal with 'Breakfast With The Beatles', is to give you, the listener, insight as to how The Beatles created the music we have all come to know and love. We don't spend much time on things like what were their favorite colors etc. How the music was made, the relationships within the band and their production team and how Beatles music changed the world culturally are what we focus on with the show.
I started playing trumpet in the third grade and as a teenager took up acoustic guitar and later on, bass guitar. I have been a radio geek all of my life and grew up listening to some of the best pop/rock and easy listening stations in Southern California. In 1979, at the age of 13, I discovered that Lennon-Mccartney stood for The Beatles, and thus began my over 40 years of research on The Fabs. My first Beatles albums were the "Red" and "Blue" albums giving me an instant library of The Beatles' greatest hits. 'The Beatles' or the "white" album was next, followed by 'Rubber Soul' and 'Abbey Road'. My favorite album is 'Abbey Road' and 'A Hard Days Night' runs a very tight second. One of my favorite Beatles songs is "Day Tripper" as it was born right around the same time I was. Must have heard it on the radio at the time I would guess.
Please join me for trips down memory lane every Sunday morning. I also enjoy new Beatles fans and your enthusiasm for Beatles music. And don't forget to put in your requests through this web page. Enjoy! Mark The Beatle Freak
Kalispell

Sunny intervals

High: 61°F | Low: 43°F

Whitefish

Sunny intervals

High: 59°F | Low: 43°F

Columbia Falls

Sunny intervals

High: 59°F | Low: 43°F

Glacier Park

Sunny intervals

High: 59°F | Low: 43°F