Dr. Buzz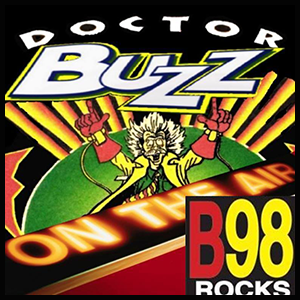 Dr. Buzz a.k.a. Geoff Scott- A 30+ yr rock radio veteran/drummer & trained WX spotter.
Formerly of ROCK106, THE PEAK, ROCK94.5, Z-ROCK & Boston Metro Traffic (where Geoff was DJ for 8 years became a traffic reporter heard on nearly 23 stations weekly). 25 years in Spokane Rock Radio, Geoff always came here to "reset", considers himself a true Flathead Original by radio family Osmosis. Speaking of Osmosis; Geoff once interviewed Ozzy but simply wound up telling him "you have three kids Oz, you should really spend some time around the family…" Years before the hit TV concept "The Osborne's". Once took 100 listeners into the Snake Pit for the ground-breaking Metallica show in Pullman (1991) at the Beazley. Got to sing on stage... with Poison, at the Gorge (2007/with Bee Broadcasting legend Barry Bennett of THE BUZZ)… And remains the only member of the B-Team to have have actually piloted a REAL B-17. Growing up in the rustic lakes region of New Hampshire, spent many a year coming to the Flathead and always dreamed of living here (Shout-Out/Yellow Bay!)
Now, living that dream, completely rules the darkness, and our light of the Night on the mighty B98.
Kalispell

Medium-level cloud

High: 63°F | Low: 45°F

Whitefish

Medium-level cloud

High: 63°F | Low: 46°F

Columbia Falls

Medium-level cloud

High: 63°F | Low: 46°F

Glacier Park

Medium-level cloud

High: 64°F | Low: 45°F