CJ Carter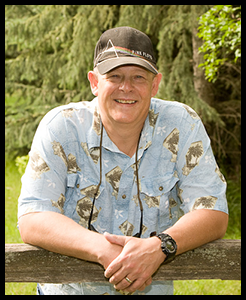 I have always loved music. I actually managed to get into the High School band when I was still in Junior High, but not because of my incredible talent with the Trumpet. Joseph, Oregon had a population of about 700. The High School band was woefully short of players…so a bunch of us Junior High kids got drafted. 6 years in the High School band was followed by 4 years in the Oregon State University marching band and the basketball band. It was a blast, but sadly, I never got to spend any time at band camp.
I managed to be a competent player, but would never make a living as a musician. However, early in High School I realized I could still make a living with music. I could become a DJ!
That's how it all started. Since then I've worked at a bunch of Radio Stations around the Northwest. KBVR, KEJO and KFLY in Corvallis, Oregon. KTEL in Walla Walla. KMOK and KRLC in Lewiston, Idaho. KISW, KXRX and KZOK in Seattle, and KRTH, KRSK and KISN in Portland. It's always been fun, but never as much fun as it is here on the Flathead's Best Rock, B98!
Thanks for listening.
Kalispell

Medium-level cloud

High: 63°F | Low: 45°F

Whitefish

Medium-level cloud

High: 63°F | Low: 46°F

Columbia Falls

Medium-level cloud

High: 63°F | Low: 46°F

Glacier Park

Medium-level cloud

High: 64°F | Low: 45°F